About The Maria Paradox Book
The Maria Paradox: How Latinas Can Merge Old World Traditions with New World Self-Esteem
Written by Rosa Maria Gil, D.S.W. and Carmen Inoa Vazquez, PhD, ABPP
Hardcover, Paperback, and E-Book
Available in English and Spanish
Summary
The Maria Paradox, helps Latinas overcome culturally imposed limits on women, passivity, and abusive relationships to enhance their self-esteem and sexual fulfillment.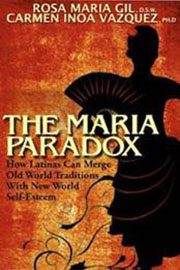 Book Reviews
From Publishers Weekly
"Gil and Vazquez are psychotherapists based in New York City, with largely Latina clienteles. Case histories drawn from their private practices enliven a unique self-help guide for Hispanic women and the men who love them.
Reinforcing traditional machismo, the authors declare, is marianismo, a centuries-old belief system that in effect tells Latinas: "Don't forget a woman's subservient place; never put your own needs first; don't wish for more in life than being a housewife; sex is for making babies."
Filled with self-help exercises, their clearly written manual, designed to help Latinas enter mainstream American culture with enhanced self-esteem, offers practical advice on how to build support networks, overcome passivity, forge career paths, change or get out of abusive relationships and increase sexual fulfillment."
From Booklist
"The authors–a psychotherapist and a psychologist–have written a book expressly for Latinas, taking as their premise the idea that there is a profound clash between traditional values and culture and the opportunities and expectations Latinas find in the U.S.
At the core of the Maria paradox is the concept of marianismo, already defined in academic literature but, according to the authors, made available to the general reader for the first time in this book. Marianismo is for Latinas what machismo is for Latino men, a set of cultural expectations that can define and also limit behavior.
Among the "10 commandments" of marianismo are "do not forget a woman's place," "do not forsake tradition," "do not be single, self-supporting, or independent minded," and "do not wish for more in life than being a housewife."
Using exercises and case studies, the authors examine the impact of marianismo on mother-daughter relationships, workplace issues, sexual behavior, marriage, and parenting. They then discuss avenues for change. A useful and readable book for most libraries serving Hispanic populations. Mary Ellen Quinn
This is a book you will want to read and recommend."
Order the Book Online
The Maria Paradox: How Latinas Can Merge Old World Traditions with New World Self-Esteem is available on Amazon and Barnes & Noble. Buy a copy online and have them delivered to your doorstep.